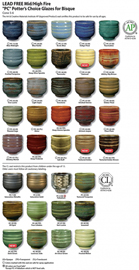 Amaco Potter's Choice Glazes (PC)
Cone 5-6 LEAD FREE - DINNERWARE SAFE

CL glazes restricted from use K-6 (ASTM D-4236/LHAMA)
A collection of potters' favorite glazes made easy.
These glazes are fired in an oxidation kiln.

They are made for anyone who would like to achieve the Cone 10 reduction effects without having to have a reduction gas kiln or firing at high temperature.

The PC Series glazes look beautiful and authentic.

They work well over most stoneware or porcelain clays.

Available in Pints, Gallons, and 25 lb. Dry.


Special application instructions:

PC-20: Blue Rutile needs to be applied heavy. Apply at least four coats. It will flow just a little and create beautiful effects.

PC-50: Shino needs to be applied irregularly. Apply 2 irregular coats. With a little practice you will see the effects that you can get by varying the application.

PC-60: Salt Buff has to be applied on the thin side. No more than two irregular coats are needed to get the random effect of salt glazing.

 

Note: 25# dry glazes are packaged in a 5 gallon bucket, ready to add water, mix and use as dipping glazes. Although most large quantity/sizes of glaze are in stock, please allow extra shipping time (approx 3 weeks) for 25# DRY Glazes and Gallons 

 

 

IMPORTANT: *The following Potter's Choice glazes, PC-12, 20, 21, 23, 27, 28, 31, 33, 34, 37, 39, 43, 55, and 57, continue to be AP in their liquid form (pints and gallons) and carry the AP seal.

There has been a change to the labeling of the 25# dry dipping forms of these glazes. That labeling will no longer carry the AP seal but will include the wording "CONFORMS TO ASTM D-4236". The following statement has also been added to the label: "WARNING: This product contains a chemical known to the State of California to cause cancer." PC-25, 42, 46, and 49 remain CL and now have this warning statement.

This change satisfies California Proposition 65 labeling requirement for titanium dioxide.

This only applies to dry forms of the material that are unbound in a non-dusting matrix (like water, oil, etc.).

 

 

Amaco Discount

20% Off 12 or more.

10% Off 6 or more.

Mix and match, any combination

Discount is applied after check-out

Update from Amaco:
New Potter's Choice Colors PC9, PC10, PC11, PC70 and PC71 will not be available for shipment until mid-summer.

6/20