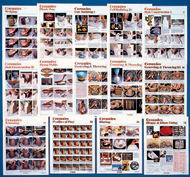 Step-by-Step Ceramic Posters
A great reference tool for the classroom!
Set of 14 step-by-step posters 17" w x 22"h. Printed on cardstock with holes for hanging. Comes with a protective UV coating. Each poster comes with step-by-step, full color photographs to illustrate ceramic techniques including wedging, coil and slab construction, hump molds, centering and throwing, trimming, glazing and firing. Examples of finished work by leading ceramists are shown on some of the posters. One poster illustrates 36 different cross-sections.
Poster Titles:
3/18