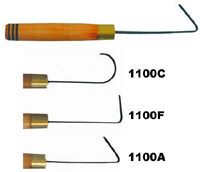 Dolan DTH Series - Turning Hooks
These Dolan turning tools were designed in their studio to speed the removal of clay with the production potter in mind.

They come with either curved, flat or angled edges.

7 1/2" overall length, 3/4" diameter loops.
Please allow extra shipping time for these custom made tools. They are special order and worth the wait. Approx 4-6 weeks.
3/18