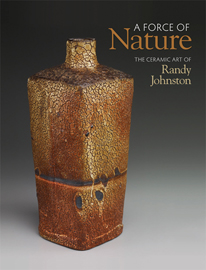 A Force of Nature: The Ceramic Art of Randy Johnston
Dr. Maske, Assistant Professor of Art History at the University of Kentucky, writes about the art of Randy Johnston, renowned contemporary American potter who lives and works in River Falls, Wisconsin.
Johnston creates utilitarian wares that recall Neolithic forms and are modernized via their partnership with a Japanese folk aesthetic. His training began in the American Midwest, took him to a year of study with Shimaoka Tatsuzo in Mashiko, Japan, and finally returned him to Wisconsin, where he is a working potter who maintains fidelity to the tradition and philosophy that initially turned him to ceramics: mingei. His vessels, fired in Japanese-style wood-burning kilns, are imbued with the mingei ideal: handcrafted, functional and representative of the Wisconsin setting where he lives and works. As an artist, Johnston has been able to observe his environment and translate it into his own voice. He creates work that pays homage to these influences but is still unique and distinctly his own. Characterized by warm and vibrant colors and evidence of intense ash flow within the kiln, Johnston's work ranges from large jars that feel as if they have just been unearthed to contemporary artisan sushi platters. In addition to his work as a fine art potter, Johnston is a professor at the River Falls campus of the University of Wisconsin.
This publication features photographs of current and past works by the artist. There are also images from his time spent in Japan (1970s) and the evolution of his studio.
Slip cased hardcover measuring 8 ½ x 11"
104 pages with 136 full color illustrations.

Due to the specialty category of ceramic / pottery books, publishing runs are sometimes limited and book titles go in and out of print without notification.  We do our best to keep up with our many publishers and stock availability.
9/18