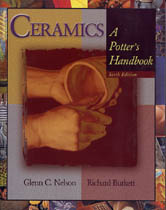 Ceramics: A Potter's Handbook
6th edition of this lavishly illustrated text complete with color photos.

Covers topics from history of equipment, throwing, glazing, kiln use and selection. Includes formulas and information on ceramic chemicals.
Paperback - 350 pg.
This title is being Discontinued
Due to the specialty category of ceramic / pottery books, publishing runs are
sometimes limited and book titles go in and out of print without notification.  We do our best to keep up with our many publishers and stock availability.
12/16