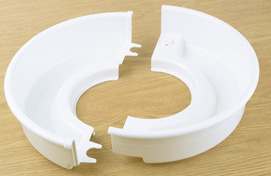 Shimpo 2-Piece Splash Pan
Two-Piece Interlocking Splash Pans
Shimpo has re-designed their easy Two-Piece splash pans to incorporate the features customers have been requesting.
Snug-fitting interlocking design separates easily for cleaning.
Manufactured from heavy-duty plastic.
Fits all Master, Rk-10, Velocity and Whisper Series wheels and may be used with Shimpo tables.
AC-001-2VLA
1/17