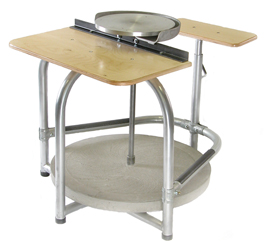 Skutt Thomas Stuart Kick Wheel
Thomas Stuart kickwheels are built to the highest standards of quality, meeting the most stringent demands of professional and amateur potters alike.
The frame is formed entirely of rigid steel pipe which is galvanized to be rust proof.

Bolt-together construction eliminates the common problems of tight corners and stairways. 

140 lb. flywheel is accurately cast with a full two inches of concrete. This, combined with the true balancing of every flywheel, gives you a precision wheel at a reasonable price.

The flywheel turns a standard 14" cast aluminum work head. (12" wheelhead no longer available)

The seat is completely adjustable, both forward and back, up and down.

The large tabletop and seat are made of selected plywoods, first stained, then sealed with marine varnish for lasting durability.

 

Anti-skid surfaces on both foot rests and the flywheel, plus the elimination of all sharp corners, gives you a wheel safe for classroom and studio use, both on and off the wheel.

The optional splash pan (sold separately) is cast aluminum and is designed to slip on and off with ease.

 

The drive system features a polyurethane drive wheel against a special band, bonded to the edge of the concrete flywheel.

Wheelheads drilled 10" on center to fit most bat systems.

  

The motor attachment can be added to the wheel at any time.
3/18